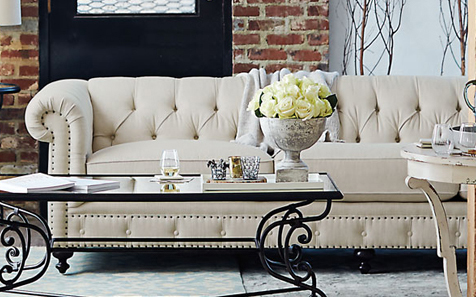 Nov
24
What is a Chesterfield Sofa?
November 24, 2017
0 Comment(s)
Have you ever heard a couch referred to as a "Chesterfield" sofa and wondered what that meant?
What is a Chesterfield and how can you spot one?
Well, this iconic British classic has been charming many homes since the mid-18th century. It's origins are mysterious, no one knows when the first one was made. However, in the 1800s, the term Chesterfield began to be used to describe a sofa and became more widespread as time went on. The most popular origin was invented by the fourth Earl of Chesterfield, Philip Stanhope. As the story goes, apparently he wanted a sofa fit for a gentlemen that would be comfortable to sit on without wrinkling and creasing his clothes. So he and a local craftsman thus came up with the Chesterfield.
So what characteristics does a Chesterfield have?
Chesterfields are known for their deep button tufted upholstery, nailhead trim, and rolled arms. Their back and arms are all the same height. Their features are very elegant. It's no wonder the Chesterfield is a timeless classic!