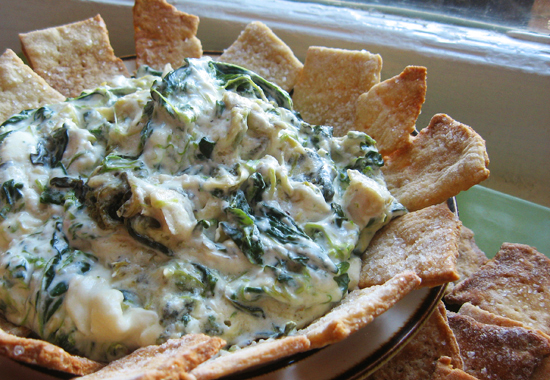 Feb
12
Are You Ready for Some Football?
February 12, 2023
0 Comment(s)
Spinach & Artichoke Dip
Are you looking for a dish or appetizer to make for the Big Game day? Here's an easy slow cooker recipe for a Spinach & Artichoke dip! This is one of our favorite recipes!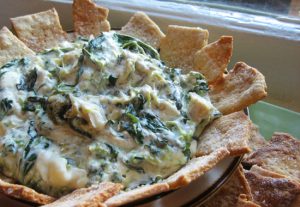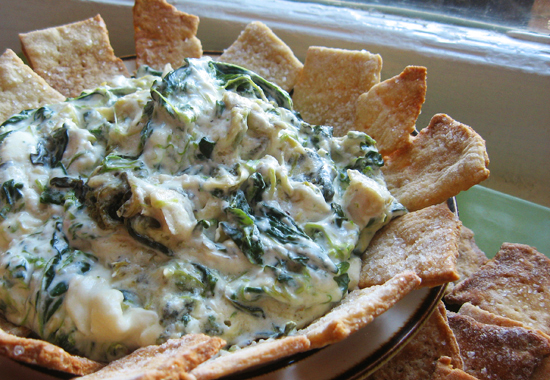 You will need:
* 8 oz  Cream cheese, cubed
* 3/4 C  Parmesan cheese
* 2 (14 oz cans) of Artichoke Hearts (drained and chopped)
* 1 (10 oz) package of frozen Spinach (thawed & liquid rung out)
* 8oz of Sour cream
* 1 small Onion, diced
* 2 cloves Garlic, crushed
* 3/4 C Milk
* 1/2 C crumbled Feta cheese
* 1/3 C Mayonnaise
* 1 TBSP Red Wine Vinegar
* 1/4 tsp Black pepper
Steps:
Place artichoke hearts, spinach, sour cream, onion, garlic, parmesan cheese, milk, feta, mayonnaise, vinegar, and pepper into a slow cooker. Stir and blend well. Place cubed cream cheese on top.
Cover and cook on low for 2 hours.
Uncover and stir the mixture well. Then cover and cook on high an additional 15 minutes.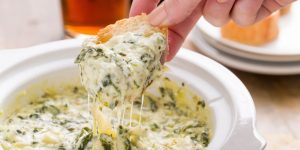 Then serve it in your favorite bowl or keep right in slow cooker, serve with chips, crackers or baguettes! This makes for an easy and tasty recipe with minimal prep time and the slow cooker cooks for you, and keep your cooker on warm to keep your dip creamy, but you may not have to worry about that, this dip goes fast!
Enjoy!
Another Viewer Favorite, Buffalo Chicken Mac & Cheese Bites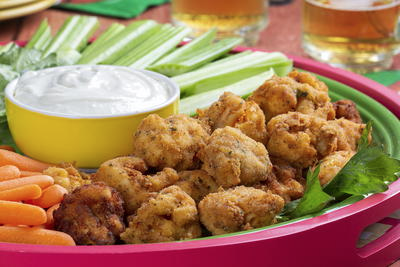 Looking for a good buffalo chicken recipe for game day? What about a mac and cheese recipe? Well, you're in luck! For the big game, we came up with an appetizer that features both of your favorites in one gotta-have-it recipe! Our Buffalo Chicken Mac & Cheese is a fried ball of appetizer heaven! Serve it up with some blue cheese and celery sticks, and your big game party will win first place!
What You'll Need
1 (12-ounce) package frozen macaroni and cheese, thawed
1/2 cup diced cooked chicken
2 tablespoons Buffalo wing sauce
1 egg
1 tablespoon water
1 cup Italian bread crumbs
1/2 teaspoon garlic powder
1/4 teaspoon black pepper
1 1/2 cups vegetable oil
1/2 cup blue cheese dressing
What to Do
Line 2 baking sheets with wax paper. In a medium bowl, combine macaroni and cheese, chicken, and wing sauce; mix well. Place in refrigerator 15 minutes to chill. Using a small ice cream scoop, melon baller, or teaspoon, shape mixture into 1-inch balls and place on baking sheets. Freeze 2 hours or until frozen solid.
In a shallow dish, beat egg and water. In another shallow dish, combine bread crumbs, garlic powder, and pepper.
In a deep saucepan over medium heat, heat oil until hot, but not smoking. Dip frozen balls into egg wash then roll in bread crumb mixture. In small batches, fry balls 3 to 5 minutes or until golden and center is hot. (Keep remaining balls frozen until ready to fry.) Drain on a paper towel-lined plate and serve immediately with dressing.
YUMMM!