Oct
19
Sherwin Williams – Color of the Year 2017
October 19, 2016
0 Comment(s)
Sherwin Williams has announced their top color choice for interior home paint "Poised Taupe – SW 6039".
It is a color that is a combination between grey and brown. The company says it is a modern take on a timeless classic: "It signals a new direction in society's ever-growing thirst for beautiful neutrals that bring warm and cool tones together to create one irresistibly versatile color. It creates a cozy lifestyle and brings a sense of sanctuary into our homes. It diffuses the stresses of the world outside our doors – so much so that we feel restored and in balance when we walk across our threshold." SW
http://www.sherwin-williams.com/homeowners/color/
Poised Taupe along with other neutral colors are greatly beneficial to a home in that they are peaceful and can live a long time without one getting tired of seeing the same bright color everyday. However, the neutral palette can be enhanced beautifully with other pops of brilliant colors that can be easily changed.
Neutral palettes are easily enhanced by having a different colored statement wall, or possibly chairs, a sofa or statement pieces (vase, pillows, cushions, art work) that is carried throughout the home with complimentary colors.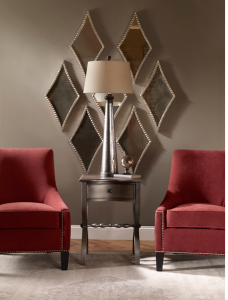 Ref.: The Today Show
http://www.today.com/video/sherwin-williams-color-of-the-year-revealed-poised-taupe-753571907964