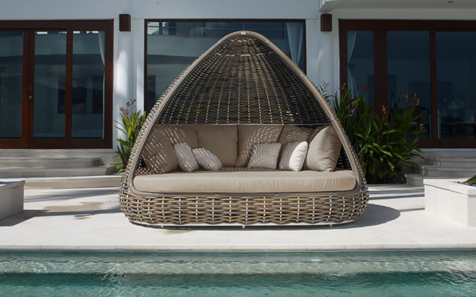 Apr
06
Summer Fun & Outdoor Living
April 6, 2017
0 Comment(s)
Warmer weather, and longer days in the sun are upon us. Outdoor recreation, picnics, catching some fresh air by the poolside and having fun in the sun are all things to look forward to as well as some fun outdoor entertaining with friends. It's so easy to get caught up in the excitement of leaving out the house without a jacket to enjoy some warmer weather and fun, but we can't forget to start putting on the sunscreen!
According the American Academy of Dermatology, one should apply a sunscreen of SPF 30 or higher, reapplying every two hours or after swimming/sweating. Also, very important to remember your lips as well! Apply a lip balm with at least a sunscreen of SPF 30 as well.
There's other ways to help protect your skin from the sun, just because you might be worried about getting burned from the sun doesn't mean you have to take the fun out of summer and be cooped inside all day, there are plenty of ways to enjoy some fresh air and still stay protected. Outdoor lounge furniture is a great way to have a protection around you and still enjoy the fresh , warm air. Here's some examples of our outdoor furniture options that would be perfect for this!
Tahitian Daybed
-Protect against the harsh rays of the sun and gather up all your guests on this strong durable shade bed for fun filled occasions. It has three pieces and is constructed with durable and strong synthetic fiber by Viro over aluminum frame. It is weather resistant and easy to clean.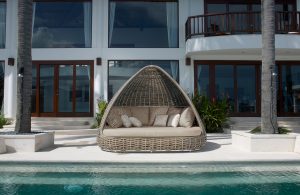 The Cradle Hanging Chair
-This hanging chair cradles your body for relaxing bliss. Perfect for places without a hanging wall and next to the water. Sit back and enjoy the curves and contours of this chair while reading a good book or overlooking the oceans scenery. The chair is made of optimum synthetic fiber, It's durable and low maintenance. Cushion is covered with durable Sunbrella fabric.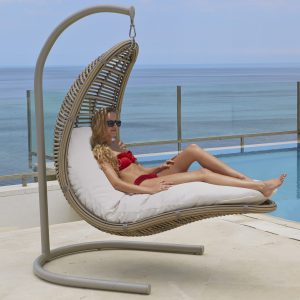 Nexus Lounge
-Perfect for enjoying the outdoors and still seeing the sun. This lounge is constructed of durable, weather-resistant and easy to maintain synthetic material. It will give you and your family a nice relaxing place filtered from the sun.
Drone Outdoor Daybed
-The beautifully designed Drone Outdoor Daybed will add style and comfort to your outdoor surrounding. Has protective overhang to shield from harsh sunrays. Comes with full bottom cushion, 5 large back cushions, and 3 throw pillows in Natural Canvas Sunbrella fabric. The frame of this piece is made of very strong, durable and easy maintenance synthetic Viro material.
Halo Outdoor Sectional Set
-The Halo sectional set easily transforms your space into the ultimate patio or backyard destination. Can be assembled in a variety of ways. Comes with 3 detachable or attachable sections, a curved bench and center ottoman. The 5 pieces comes as a set and includes the cushions shown in Natural Canvas Sunbrella fabric. The frame of this piece is made of very strong, durable and easy maintenance synthetic Viro material.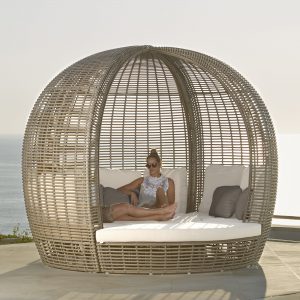 Exquisite Domed Sparta Lounge
And finally, the exquisite Sparta lounge is a stand out piece and will draw much attention to any pool party or social gathering. Suited to accommodate 8-10 individuals comfortably. It is furnished with 16 large back cushions as well as 10 throw pillows in Sunbrella fabric.